The highlights will show Robert Marve's one yard touchdown run as the signature moment of Purdue's thrilling 26-23 overtime win over Ohio State.
But, the Boilermakers victory is truly the result of a player studying the game and motivating his teammates.
Ohio State's Braxton Miler hit Jordan Hall on a 13-yard touchdown with: 55 seconds to play to tie the game at 20-20. The Buckeyes faithful who made the journey to Ross-Ade Stadium thought they were going to see their team complete another late comeback, but Kawann Short had a trick up his sleeve.
The junior defensive tackle noticed some holes in the Buckeyes field goal and extra point units. He saw them when watching film during the week and noticed them again on a field goal try earlier in the game.
The problem was the holes weren't where Short lines up. They were right in front of Bruce Gaston. Knowing that, Short pulled his teammate aside and told him exactly what to do.
"I was telling Bruce during halftime that 'your man is crashing down so you should be able to get through the little gap,'" said Short. "When the winning [extra point] came, I just took a deep breath and everybody was quiet and I was like 'Bruce this is on you. You know what I told you.'"
Gaston followed suit, put his hand up, and the ball fell to the turf.
Tie preserved. Overtime happens. Purdue earns its signature win of the 2011 season, thus far.
"It's good that I have a teammate like KK [Kawann Short] that at least trusts me that much to say something like that at a crucial time in a game," said Gaston. "That really meant a lot to me coming from a player like him."


Kawann Short has emerged as the leader of the Boilermakers defense. Saturday was no different. The 6'3, 310 pounder from East Chicago, Indiana exploded against the Buckeyes.
He recorded six tackles, three sacks, and kept Miller under pressure for the entire game.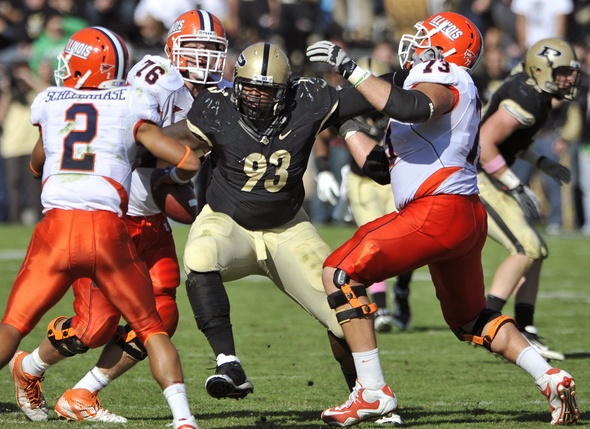 "Those on field adjustments, that even the coaches might not know about, like it occurred in this game, can be game changing," said Purdue linebacker Joe Holland. "For [Short] to relay that message to Bruce and tell Bruce how to make a play, he's really turned himself into a special player."
Last week, in Madison, the Boilermakers gave up 62-points to Wisconsin. The week before that, the Michigan Wolverines' offense lit them up for 535 yards. It's no surprise, both games ended with losses.
After two straight outings in which the Boilermakers defense was exposed, Purdue needed Short to step up. He embraced the pressure.
"Last week was terrible for me…it was my worst game," he said. "Being a captain this year, I have to set an example. So, if I set an example and come out and play hard the whole game, everybody else will jump on board and bring that energy and keep going."
Short's play was contagious. Purdue held Miller to just 8-of-18 passing and 132 yards and gave up just 295 yards of total offense to a Buckeyes team that averaged almost 380 the past two weeks.
"He's a menace. He's really starting to play with that high motor every single play." said Holland of Short.
"You look at his productivity two years ago and last year to where it is now, I really think it's that consistent high energy motor that he is able to play with. Whether it be better conditioning or a better mind set, it really is inspiring watching him play at the high level he does, every single play."
But, the job for Short and the Boilermakers is really just beginning. With two games to play, Purdue needs to win at least one to qualify for a bowl. If they do, it will be the first time Short has been able to experience postseason play in college.
"Two more wins and we'll be good, but one more would be great," he said. "I can taste a bowl."
If Short continues to play like he did Saturday, that craving will soon be satisfied.