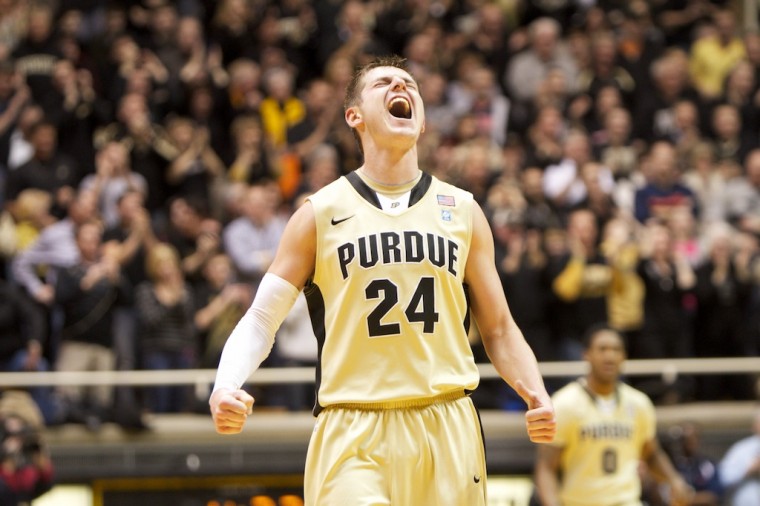 The Purdue men's basketball team is 2-0. The record looks nice, but the Boilermakers are not pleased with their most recent performance.
Purdue escaped against High Point with a 67-65 win at Mackey Arena.
"I give a lot of credit to our team, though, because we found a way to win" said forward Robbie Hummel, who scored 18-points in 38-minutes. "It wasn't pretty. It won't be one of our most memorable wins, I'm sure, because it was certainly ugly, but I'm glad that we were able to pull it out."
At this point you are probably asking yourself, High Who? The small school in North Carolina may not have come to West Lafayette with a lot of notoriety (the most famous athletic alum is current University of Minnesota head basketball coach Tubby Smith), but the Panthers left with all the respect in Central Indiana.
"The first thing I talked about after we beat Northern Illinois was High Point and how the game will humble you," said Purdue head coach Matt Painter. "Hopefully...this game can help us prepare for our next opponent and down the road."
Purdue had to scratch and claw until the very end and while High Point put together an excellent game plan, the Boilers made life harder on themselves than necessary.
The Boilers shot just six-of-19 from the free throw line, including two misses by Hummel that left the door open for High Point to win on a last second shot. Fortunately for Purdue, Nick Barbour's three was off the mark.
"They call them free throws, they are free. There is nobody guarding you" said Hummel. "That's on all of us. That's on myself. Individually you've got to get in and practice free throws. It was disappointing."
Conversely, the Panthers went 12-14 from the charity stripe.
Purdue's saving grace was Ryne Smith. The senior guard came out launching three-pointers and connected early and often. Smith finished the game with 26-points, including eight-triples. Both are career-highs.
"We want him to be aggressive and take as many good shots as possible," said Painter of Smith. "He thinks they are all going in like good shooters (do)...I'm proud of him. He's worked hard to get to this point."
Smith's career night helped Purdue avoid an early season let down, but it's obvious the Boilermakers have a lot of work to do, particularly up front.
Purdue's big men (Travis Carroll, Sandi Marcius, and Jacob Lawson) combined for two points. The only bucket between the three came on a Lawson dunk. The Boilers shot 32-triples and took just ten attempts in the paint. A lot of the credit goes to High Point which used a two-three zone and dared Purdue to beat them from the outside. They did. But, if Smith wasn't on fire, NBA Jam-style, the Boilers may already have a blemish on their early season record.
"One thing we've been working on is posting a little bit harder, trying to get more inside position," said Carroll. "The guards, they are looking for us. They try to pass it in to us. It's our responsibility to go and post hard on our man to the ball and score."
Another High Point (ahem) of concern for Purdue is a lack of easy buckets. The Boilers had almost no points in transition and again were forced to rely on efficient outside shooting to make up for the short coming.
"We've typically created transition through our defense and also forcing people to shoot long shots and get long rebounds and then push...we just didn't get into a lot of those opportunities," said Painter. "You have to give High Point credit because I thought they continued to score the basketball and make good decisions and not allow us to do that."
A win is a win, especially in the early part of the season. But, its apparent Purdue can't afford to play unfocused.
Smith admits the team may have overlooked the Fighting Tubby Smiths and thinks the game was the type of kick in the pant the Boilermakers needed as they head to play away from Mackey Arena for the first time this year.
"We have to forget the name on the front of the jersey on the opposite team and go out and play as hard as we can" he said. "Hopefully, this is a good wake-up call for us and knowing what we have to do and knowing we have to play hard no matter who we are playing."
Anthony Johnson (13-points, three assists) started for Kelsey Barlow who came off the bench for missing a class and the team played without D.J Byrd who injured his ankle in the season opener. Purdue hopes to get him back during the Five Hour Energy Puerto Rico Tip-Off.
The Boilers play Iona in the opening round of the event, Thursday.