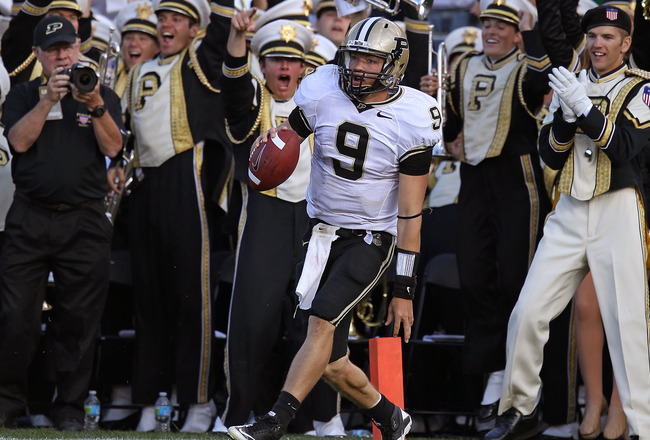 Ohio State is going to start thinking of Ross-Ade Stadium as a house of horrors.
Two years after the Buckeyes saw their national title hopes dashed in West Lafayette, the Buckeyes again were shocked on the road at Purdue.
Robert Marve bulled his way into the end zone from a yard out in overtime to give the Boilermakers the 26-23 win.
"Being at home brings energy to our football team," said Purdue head coach Danny Hope. "Having our fans there, our student section there, and the Ross-Ade Brigade there makes a huge difference for our football team."
Purdue forced the extra session by blocking a Drew Basil extra point attempt after the Buckeyes scored a touchdown to tie the game with under a minute to play.
Bruce Gaston got his hand on the ball that kept the score knotted at 20-20.
"It was so surreal when I actually blocked it," said Gaston. "It was like a movie."
Ohio State started with the ball in overtime. Purdue's Dwayne Beckford sacked Braxton Miller on second down and the Buckeyes were unable to pick up the first down on the drive and had to settle for a 33-yard Basil field goal.
Purdue converted on a pair of third downs in the extra session.
Quarterback Robert Marve, who split time throughout the day with Caleb TerBush, scrambled six yards to earn Purdue a fresh set of downs and then connected with Gary Bush on a 14-yard pass that set the Boilermakers up with first-and-goal from Ohio State's one yard line.
On the next play, Marve ran it in behind the left side of the offensive line for six and the win.
"I wanted it," he said. "When I saw it six inches away I told coach 'we got to go for it.' The biggest thing about a quarterback sneak is just make sure you secure the ball from the get go and [I] did that, slid down the line, and met a big fella and somehow stuck the ball out."
Marve bounced back after throwing an interception late in the fourth quarter as Purdue was driving for what could have been a game winning field goal try.
He credited his teammates with keeping him positive heading into overtime.
"It's nice when you have brothers on the team that come up to you, put their arm around you, and say you are going to be ok," said Marve.
Purdue started the game fast. The Boilermakers jumped out to a 10-0 lead courtesy of a 19-yard Carson Wiggs field goal and a four yard touchdown run by Akeem Shavers.
The Boilermakers racked up 363 yards of offense, including 234 in the air. Marve went 10-13 for 94 yards and TerBush was 15-24 for 140 yards.
Ohio State didn't pick up a first down until the second quarter and were held to just 97-yards of offense in the opening half.
Beckford led Purdue with ten tackles and Kawann Short had six, including three sacks.
The Buckeyes trimmed the deficit to three when Miller hit Jordan Hall on a 38-yard touchdown, but, Purdue responded later in the quarter with a 13-play, 88-yard drive that was capped off with a seven yard Ralph Bolden scoring run.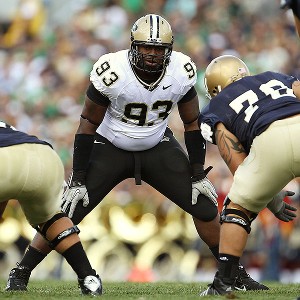 Down ten at the half, OSU scored on its first possession of the third quarter on a six yard run by Miller.
Purdue pushed the lead back to six with a 44-yard Wiggs field goal in the fourth quarter.
Ohio State tied the game on the second scoring connection between Miller and Hall, but Purdue's block of the extra point gave the Boilermakers renewed life and they took advantage.
"We wanted it as bad as, you know what they say, a fat kid loves cake," said cornerback Josh Johnson. "We are trying to get it for our seniors and coaches. I have never been to a bowl game, so just having that experience makes me want it that much better."
The win ends a two game slide for Purdue, which is now a game away from bowl eligibility. The team has never qualified for postseason play under Danny Hope.
Purdue will try to punch its ticket to the postseason next week at home on Senior Day against Iowa.
Ohio State returns to Columbus to host Penn State.