There was a lot for Purdue basketball fans to be excited about, Friday.
The university officially unveiled its $100-million renovations of Mackey Arena, which include a new floor, concourse areas, and locker rooms.
Initial impressions are that Purdue used every cent to give the 40-plus year old structure a more modern, fan friendly look.
As eager as Boilermakers were to check out their updated digs, the greatest level of excitement was centered around something old.
Not old in terms of age, but old in terms of not having been seen in awhile.
After two ACL tears and more than a year-and-a-half removed from playing in a regular season game, Robbie Hummel was back on the floor against Northern Illinois.
"I was just looking to get back out there, get kind of back into the flow of playing again," said Hummel.
The former second team All-American had not played in a game that counted since February 24
th
, 2010.
Friday, he returned and it didn't take long to show why he was so missed.
He netted the game's first bucket less than two minutes into play.
It was a text book triple and from the roar of the crowd, you would have thought he hit the shot that sent Purdue to the Final Four.
It was a shot Boilermaker fans have been waiting to see for 21 months.
He added two more triples before halftime and went into the break as the Boilermakers' leading scorer with eleven.
The mid-game timeout couldn't slow him down.
Hummel drained two more triples early in the second half en route to a game-high 21-points and Purdue cruised to the 96-34 season opening win.
"I thought it was a very good job by us," said the senior.
"I thought three-point shooting, we obviously shot pretty well.
I think the one thing we need to work on is rebounding."
The Boilermakers out boarded the Huskies 43-37, but Hummel is a perfectionist and always looking to get better.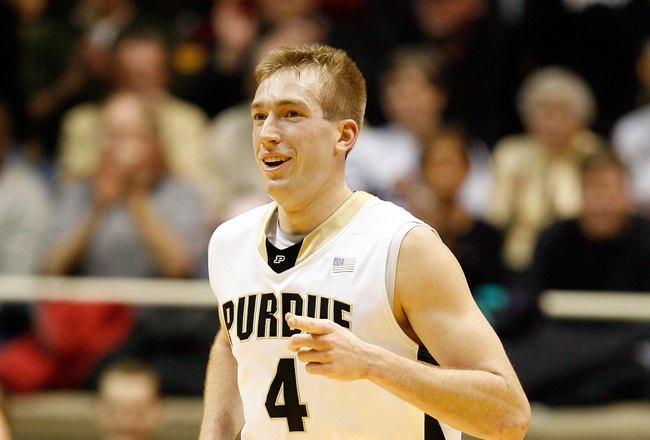 It's that type of attention to detail and level of commitment that impressed the man whose job it was to gameplan against Hummel, Friday.
"I know Purdue is definitely glad to have him back for his fifth year.
He is a leader," said Northern Illinois head coach Mark Montgomery.
"He came out tonight and showed you he is going to take over where [JaJuan] Johnson and [E'Twaun] Moore did last year.
He is going to lead them in scoring and other guys are going to just follow suit."
It was Hummel's night.
He could have scored one basket and those at Mackey would have been fine.
The Boilermakers' faithful just wanted their captain and leader back, and Friday, he finally was.