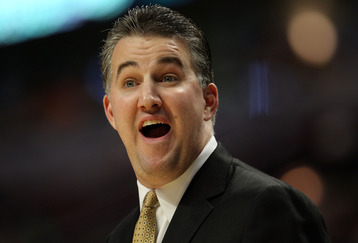 Matt Painter just solidified himself as one of the good ones. He was already in the class of college basketball's classy, but his decision to turn down more money at Missouri to continue coaching at Purdue puts him just outside the category of Izzo, Krzyewski, and Dean Smith.
Painter, just 40-years-old, has a chance to jump on par with these elite coaches once he guides the Boilermakers to a few Final Fours, but for now, Boiler Nation should take pride in knowing their coach thinks first with his head and heart, not his wallet.
When I first heard news that Painter was considering the jump to Mizzou, I was confused. Why would you go to, what I perceive as, a lesser job? Why would you leave your alma mater? And could you really turn your back on Robbie Hummel?
It didn't make a whole lot of sense.
Then came the numbers. Painter is the eighth highest paid coach in the Big Ten. A conference his teams have finished no worse than second in over the past four seasons and one in which he has been named its Coach of the Year in three of his six seasons in West Lafayette.
Painter deserves more and is finally getting it, a reported eight year extension, although the details are not disclosed, yet.
I don't know how close he was to actually becoming a Tiger. According to the St. Louis Post-Dispatch, it was all but done. But, I do know that Painter gains a lot more by sticking at Purdue than bolting.
Despite his success in the regular season, the Boilers have still fallen short of the coveted Final Four run their fans are so desperate to experience, again. If Painter would have left, he would have been villafied for not following through on a goal he preaches so adamently to fans and, more importantly, his players.
It would have very much mirrored LeBron's "decision."
Had Painter switched jobs, he would have looked like a quitter, who leaves when the going gets tough.
Expectations will be understandably lower next year with the loss of Big Ten Player of the Year, JaJuan Johnson, and NBA prospect E'Twaun Moore. Nonetheless, Purude, and all schools, want a coach that is going to stick through the tough times and fight back to prosperity.
Instead of taking his talents to Columbia, Painter decided to follow his own words and work until the job was done.
Painter's decision sends a message and invokes an identity to his players and recruits that Purdue is a family and families stick together.
Is Painter a "Lifer" at Purdue like Izzo announced he would be in East Lansing, maybe not? But he proved that he is at least a fighter, competitor, and leader...something college basketball could use a lot more of these days.