There is this thing out there that is more potent than that
drug called Charlie Sheen
. It is ten times as intense as the stuff those
Club Kids
were using in the early 90s and it's something that can ignite revolutions in the Middle East and
spark story book romances
.
It's called PASSION and for the love of
Tom Cruise jumping on Oprah's couch
, will someone please give Michigan State's basketball team a dose.
You know what, a dose probably isn't enough. They are going to need to basically O-D to salvage this season.
I've watched almost every Spartans game this season and every single one in Big Ten play. Win or lose, I am left with the same feeling of emptiness.
This isn't your grandfather's Spartans with Magic and Greg Kelser. It's not your Dad's Spartans with Scott Skiles and Steve Smith. This isn't my Spartans with Mateen, Mo Pete, and J Rich. Hell, this isn't even your younger brother's Spartans with Drew Neitzel, Travis Walton, and Raymar Morgan.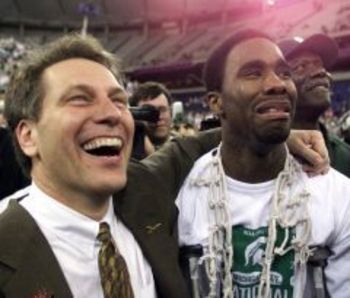 This year's team has played with a sense of unwarranted entitlement and have been as lifeless as a
goth painter
.
Blowout losses to Iowa and Purdue were awful. Falling twice to U-of-M is almost unforgivable. And national TV flops to Duke and Texas were shameful.
There is plenty of blame to go around. Did Tom Izzo flirting with the NBA serve as a distraction? Maybe. Did losing their two best perimeter defenders Korie Lucious and Chris Allen hurt? Absolutely. Did the pressure of the preseason hype overwhelm them? I think so.
But as the saying goes, "excuses are like a** holes..."
So no more. It's time to get grimy, dirty, and rugged and show up like you've got a pair.
Michigan State has one final shot to salvage a season of embarrassment this week in the Big Ten tournament. But it won't be easy.
Waiting for them in the first round is an Iowa team who just upset 6th-ranked Purdue and routed the Spartans earlier in the year in a game I turned off at halftime to watch the
Bad Girls Club
. That's right, I couldn't stand the sight of watching MSU play, so I was forced to find some kind of emotion and energy on the Oxygen Network. THE OXYGEN NETWORK!
If, and I mean IF, State can muster up some tenacity and beat the Hawkeyes, they will be rewarded with playing the tournament's second-seeded Boilermakers. In case the Spartans forgot, this is the team from West Lafayette that spanked you in Primetime in January and then followed that up by handing you a Kevin Bacon "
thank you sir, may I have another
" beat down on your home floor a month later.
That alone should be enough to fire you up, but if it's not, let me continue.
You should want to be Purdue. They represent everything Sparty fans want out of their team.
I've covered the Boilermakers all season and can say, without question, there is not a more determined, passionate team in the conference.
JaJuan Johnson
They lost their leader, FOR THE SECOND TIME IN NINE MONTHS, and have responded like Champions. Purdue used Robbie Hummel's injury and the doubt that followed as fuel to put together a top-ten season.
JaJuan Johnson is as quiet of a player as there is off the court , but when he is on the hardwood, he is
an ultimate warrior
. He'll pound his chest, bellow, and battle as hard as anyone and that intensity has rubbed off on his teammates.
E'Twaun Moore has come alive after a slow start to the Big Ten season. D.J Byrd and Ryne Smith are more confident. And maybe most impressive is Lewis Jackson who has transformed into an All-Big Ten caliber player. It's not because the 5'9 point guard is the most talented, but because he is the most driven to prove all doubters wrong.
Michigan State, you need this drive and need it now.
The problem with passion is that there is no Cialis-type drug that you can just pop to get it up in an instant. It's something you're either born with or build as a team. There isn't much time left, but Sparty has three days to start constructing ferociously like Bob Vila.
And don't think that this is going to be like the last two years when you made those miracle runs to the Final Four. You aren't those teams. You aren't that talented. But, you can overcome those shortcomings by equaling the passion of those teams.
Kalin, Delvon, Draymond, Keith, and especially Durrell...it's time. It's time to stamp your legacy on this program. If the history book on this team came out now, it would be titled "Michigan State 2010-2011: The Flop. A Story in Underachieving." You don't want that. That story is ugly. It's '
No Country for Old Men
' ugly.
Use the Big Ten tournament to write a new chapter, one of triumph and success. Be
Rudy
, or the
Miami Sharks
, or
Hoosiers
. I don't care which you pick, but just don't be your normal passionless selves.
If I still haven't gotten through to you, I'll take one last shot, and if this doesn't do it, all hope is lost.
Wes Leonard
Last week, in your own state, Fennville basketball player Wes Leonard gave his life playing the game you are currently taking for granted. He died of an enlarged heart after hitting the game winning shot that helped his team improve to 20-0.
There isn't a friend, family member, teammate, classmate, or person who has read his story that doesn't wish the 16-year-old would have another day, hour, or minute to play the game he loved just one last time.
Wes Leonard is what basketball is all about. He worked hard and prepared himself for the biggest moments.
He is an inspiration.
Michigan State Spartans, you need to find your inner Wes Leonard.
Play as if every minute was your last. Dive for every lose ball. Continue to fight if you get down. Come together as a team, get inspired, get passionate, and if you do, you will be successful...finally.