Purdue's women's basketball team had a chance to beat a top-five ranked opponent in back-to-back games, Saturday. It would have been the first time the program did that since 1998.
But, the Boilermakers quest was put to bed early in their 66-38 loss to number three-Notre Dame.
"We were just flat," said Purdue head coach Sharon Versyp. "Today, I am extremely disappointed because we are better than this. They played well. We didn't play well."
The Irish asserted themselves from the opening tip at Mackey Arena. Skylar Diggins and Devereaux Peters helped Notre Dame build a 24-point lead in the first half and they never looked back.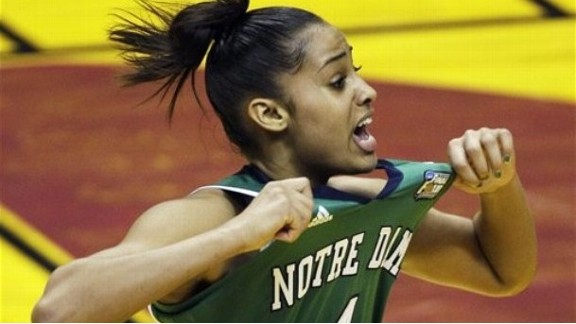 "Notre Dame is very physical," said Versyp. "We were more of a physical team in the second half, but [when] there is a stretch [in the first half] where you can't make four open layups and then hit outside shots, it just kind of snowballed from there."
Diggins, who is a top candidate for National Player of the Year, scored nine-points, dished out seven-assists, and pulled down six-rebounds.
Peters recorded a double-double with 16-points and 11-rebounds. Natalie Novosel added a game-high 17-points, with 11 coming in the second frame.
"They execute well. They run their system. They understand stuff. Obviously, that is why they are a top team in the country," said Versyp.
Purdue never led.
The Boilers shot just 24-percent from the field and were one-of-ten from three point range. Six days prior in their 60-51 win over fourth ranked and defending national champions, Texas A&M, the Boilers shot 38-percent from the field and knocked down six triples.
"We just didn't bring it," said Purdue's Brittany Rayburn. "It's very surprising. We should have been up for this game. We were very, very, very prepared for this game. I can't explain what happened."
Notre Dame applied full court pressure for the majority of the game which slowed Purdue from getting into their offensive sets and when they did, were forced to take mostly perimeter shots. The Notre Dame defensive forced 24 Boilermakers turnovers.
"We really tried to put pressure on them early. We knew they have very quick guards, so we were trying to get an early trap," said Diggins. "We tried to face guard and do some different things there, some run-and-jump, some things like that, just really putting pressure on the ball."
Courtney Moses scored a team high 14-points for Purdue. She has led the Boilers in scoring each of the past three games. However, neither she nor Purdue's other starting guard KK Houser recorded an assists. The Boilers had just five as a team for the game.
"If I was an opposing team, I would press us every second," said Versyp. "It throws our rhythm off and then we just panic in the half court."
With the win, Notre Dame extends it winning streak to six. They host number ten Kentucky, December 18th.
"We can be a lot better," said Notre Dame head coach Muffet McGraw. "Defensively I think we are about where we need to be, now that we are rebounding better, but offensively, I think we can play better."
Purdue (7-2) returns to action Sunday at Central Michigan.
"I think it's good for us to get back after it tomorrow," said Rayburn. "We have to come back out and change our game completely. We didn't compete tonight."