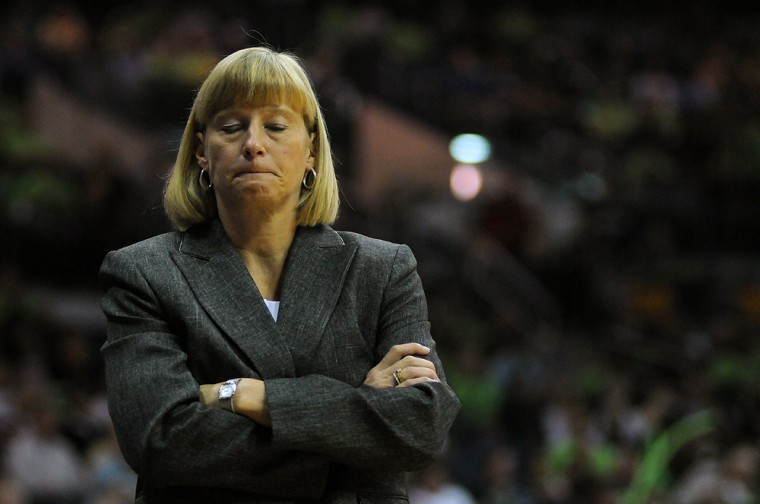 Sharon Versyp knew her team's recent three game stretch would be a challenge. Saturday, in the finale, she learned just how tough.
Purdue fell to last year's national runner-up Notre Dame 66-38 at Mackey Arena.
The Boilers were outplayed from the opening minute and were reminded just how focused they have to be every time they step onto the floor if they want to compete with the best in country.
"They have to play as a team," said Versyp. "You've got to believe in the system and got to be able do the things that we normally do, and we didn't do it. It's not like they took us out of our game. We just didn't post up hard, we didn't rip hard, we didn't attack hard. There are a lot of different things that we didn't do."
Purdue went 1-2 in its consecutive games against top ten opponents. The Boilermakers fell at then seventh-ranked Duke, rebounded to topple the defending National Champions Texas A&M at home, and then lost to the third-ranked Irish, Saturday.
Despite having a losing record during that stretch, Versyp believes Purdue learned invaluable lessons along the way.
"Winning one out of three was huge. I think that was big," she said. "The first two games I was very pleased with the effort, I was pleased with the focus, today (against Notre Dame) I am extremely disappointed."
Purdue was bounced from the NCAA tournament in the second round by perennial powerhouse Connecticut a year ago. They used that game as a building block heading into this season.
Notre Dame head coach Muffet McGraw, whose team knocked off some of the best in the nation during their Final Four run in March, believes the Boilers recent three game stretch against top ten opponents can help them grow even more as a team moving forward.
"You really learn a lot about your team. It's great to schedule good teams like that," she said.
"I think it really helps your team. They are a pretty young team, overall. I think that the way they are playing, they are going to win a lot of games. I think when you play teams like that it makes preparing for the Big Ten easier because you have played a high caliber opponent and now you are ready to play anybody."
While that may be true in the long term, Versyp wants her team to play with more energy now, no matter who the opponent. Saturday, she sat starting guard KK Houser on the bench for the majority of the second half because as Versyp said "she didn't bring it."
Versyp is looking for not only talent, but consistent effort and this tough slate of games gave her a better idea of who is willing to do so. She is so determined to spark her team's energy level that she planned on holding practices after the Notre Dame game and before their game Sunday against Central Michigan.
"I want players out there that really want to compete and help their team," she said.
Purdue's next test comes less than 24-hours after they walked off the floor against Notre Dame. The Boilers travel to Mount Pleasant, Michigan to face the Chippewas.
It's the next challenge and Purdue's response will be another step in the learning and growing process.


"We'll show what our team is about (against CMU)," said Versyp. "If we do well, then we are right back on track and be fine. We'll be 8-2 heading into finals, I'd be ecstatic about that."