Sitting on the bench, dejected, after another loss, 17-year-old Sam Klemet learned a lesson he carries with him everyday in his life.
He looked up into the stands of the Brother Rice gymnasium to see his parents smiling at him, both pointing to their chins signaling to "keep his head head up."
Bench warmer
It came after I spent, yet again, 32 minutes riding the pine for a team that didn't win a league game. I thought to myself "
how is this at all fair?
"
I knew for a fact that no one worked harder than me. None of my teammates spent more hours working on his game in the summer, running hundreds, maybe even thousands, of miles during the fall to improve my endurance, and no one dissected film like I did. I watched game tapes so much you would have thought they were titled "
One Night in Paris
."
But, despite my efforts, the only shots I was taking on gameday were ones during warm ups. (And yes, I did keep my stats for the pregame. I was about a 60-percent shooter, although that's slightly inflated because the first five were usually layups.)
It wasn't fair. It wasn't meant to be, but it was a great teaching moment.
My parents kept reminding me that no matter how the season ends, even if I never play a minute, to take pride in the process and be proud of putting forth my best effort.
I took their advice and grinded through the season. I never missed a practice, came early to shoot arounds, and was as bruised up as
Vince Neil's ex
from diving on the floor for loose balls in practice. It was all for naught. I probably averaged 2 minutes of playing time per game for the season. My best efforts didn't result in great rewards.
Butler, I feel your pain.
Basketball, as can all sports, tears at your heart and can beat you down after you've given all you've got.
The Bulldogs, for the second straight year lost in the National Title game in heartbreaking fashion. Worse than last year's near miracle-shot loss against Duke, this year's Butler team shot miserably on the worst possible night. It was a drought even
Texans couldn't comprehend
.
Brad Stevens' team shot 18-percent from the field, the worst ever in a title game, with the whole world watching. How embarrassing.
Matt Howard, Shelvin Mack, Ronald Nored, and their teammates were simply off. Their faces were in shock. They looked as if they had just been robbed and lost everything.
But to their credit, they fought. I didn't see any quit in Butler. Even when the game was out of reach (yes, 10-points is out of reach when you make 12 total shots), the Bulldogs battled. They fought for rebounds, dove for loose balls, and worked hard on defense.
It just wasn't their night. Like Sam Klemet's high school basketball career, it wasn't meant to be. Kemba and the Kembets were a better team. They deserved to win.
But that doesn't mean Butler isn't a champion, as well.
What Brad Stevens' teams have accomplished over the past two seasons is remarkable. There is no shame in getting to a title game and losing. (
Unless you are Michigan, nice T.O C-Webb....unnecessary shot at the Wolverines
, count it for Sparty! Zing!)
Butler should take pride, and the nation should commend them, on achieving success the right way.
As much as I respect the run UConn made, I think it's a little sour. Their coach will sit out three games next season for committing recruiting violations. That doesn't seem right does it? This is not to take anything away from the Husky players, who are every bit deserving of a title, but the team is led by a man who was caught cheating.
Seems unfair.
Butler has a clean program. Their leader is the poster child (child being almost accurate) for up and coming coaches. He demands success from his players and doesn't care what the odds are against them.
Stevens has created an identity that his team would rather go down fighting than cut corners.
It's an identity more teams, especially on the college level, should adopt.
Butler is made up of mostly juniors and seniors. According to the endless reports from Houston during the Final Four, most are level-headed guys, who work just as hard in the classroom as they do on the basketball court, and most have aspirations outside of the sports world once their careers are over.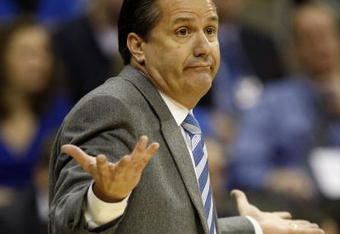 Let's look at, ohhh I don't know, how about...Kentucky. Good season, yes. Final Four, pretty impressive. Basically a whole new roster next season,
no doubt
.
John Calipari has built a pit stop for pro athletes. His players go to class for a semester and then start eying their spot in June's draft. John Cal's one and done count will soon rival
Wilt Chamberlain's bed posts
.
Although, it's not entirely his fault. The system makes it possible. There is no emphasis on education, which according to the NCAA, is what sports is all about.
Apparently at Kentucky, North Carolina, or Ohio State a full educational experience for athletes is a one year program.
Butler is developing a culture of winners and leaders, both on and off the court.
I've seen it first hand.
Saturday, before the Bulldogs semi-final game against VCU, I took my little brother to Butler's campus. We made a day of it, making stops at the College Sports Hall of Fame and at Conseco Fieldhouse to watch the women's Final Four practice. But, the best part of the day was just outside of Hinkle Fieldhouse when he looked at me and said "This place is awesome. I would love to go to
school
here."
Win.
The success of the Butler basketball team has opened doors and given exposure to a university that is rich with sports and academic tradition.
It's given 13-year-old's a group of men to look up to, not because of
what they have (rims and diamonds)
, but because of what they represent, hard work.
It probably isn't fair that a team that works so hard came up empty...again.
But, while the Bulldogs may still be feeling sheepish today, when they look back on what they have achieved on the journey, they will find, they have done something more important than winning a trophy. They've created a legacy and culture of leaders and role models.....true champions.