One of my favorite songs of all time is "Victory" by Notorious B.I.G, Busta Rhymes, and Diddy.
The song is powerful. It masterfully blends the booming bass of hip-hop with the dramatic violins of classical music. Biggy goes hard on the verses. Busta's hook is epic and Diddy adds the perfect mix of flavor, bars, and commentary.
My favorite part of the song that is all about rising to success comes at the very end when Puff hits the autotune (the song was released in 1998, before autotune became huge) and yells 'What am I going to do now, huh? What am I going to do now? It's all F***ed up now.'
I imagine Mr. Sean Combs is thinking similar sentiments today as critics chastise his son, Justin, for accepting a $54,000 a year athletic scholarship to play football at UCLA. They argue that, because Diddy is worth more than a half-billion-dollars, he should cover the expenses of his son attending and playing football at the next level.
Also, football revenue is usually one of the driving financial forces of a university. Hundreds of thousands of fans pack UCLA's Rose Bowl for home games every year. That money is used to help other students come to the school for free or reduced prices, so it's beneficial to all Bruins for the team to have a successful football program. If the school thinks Justin Combs will help enhance that product and believes a scholarship is the only way to bring him in (mind you, he had other offers including at Illinois and Wyomig) then that is what the team is supposed to do.
Sports scholarships are intended to reward students with high athletic ability that also meet the academic requirements. Justin Combs meets both, with ease. He is not only a highly touted football player, but the young man has a 3.75 grade point average.
According to a
2008 New York Times report
, about two-percent of nearly six-and-a-half-million students who play high school sports receive a scholarship to continue their athletic careers at the next level. That is an elite group who must make a lot of sacrifices and put in a lot of hard work to be recruited in such a way.
Justin Combs is part of the lucky few.
Yes, he lives a life of great privilege and yes, he has probably had access to opportunities that made his athletic and academic success easier than others, but that doesn't take away from the fact that he put himself in a position to make his own mark without being "Diddy's Son" his whole life.
I thought Mike Wilbon made a great point while debating this issue on "Pardon the Interruption," Thursday. He said, there are probably tons of Wall Street millionaires whose kids go to elite high schools who are given full ride scholarships, yet, there aren't people screaming 'outrage' and calling for those kids to return the financial aid.
I personally went to a private high school and know students whose parents were beyond wealthy who received full ride scholarships and no way were they returning the money. And these weren't athletic scholarships, these were scholarships funded in part by student fees that could have gone to other, more needy students.
Calling for the Combs family to reject the rewards of their son's work is unfair.
Society, myself certainly included, is constantly harping on the lack of young people today striking a balance between athletics and academics. AAU teams and high schools have become factories for developing dreams of the Big Leagues, while at the same time states are cutting budgets for public school teachers, books, and educational field trips.
Sports are seen as a means to an end with school often overlooked.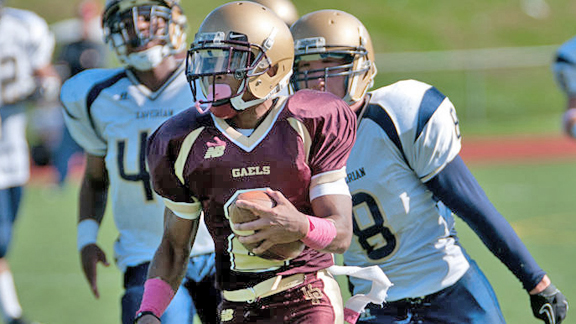 Justin Combs has found a balance between school and sports. He is not in trouble with the law. He is a typical teenager hoping to receive some acknowledgment for his dedication to class and football.
Telling him to reject the scholarship essentially sends a message to kids whose parents are wealthy that you don't need to develop a work ethic because your road is already paved for you. That's a dangerous precedent and likely will lead to an even more entitled culture, which is already a national problem.
Justin Combs is the son of a man who was born and raised in Harlem's public housing projects. Diddy dropped out of college only to work hard enough to build a multi-million dollar entertainment empire. He made the most of his opportunities, including
dating J. Lo for awhile
, probably his finest accomplishment to date. He wasn't handed anything, he worked for it.
I have to believe a man like that doesn't raise his son as someone allowed to rest on the success of his father. Anyone who has ever listened to Diddy in an interview or seen his reality shows knows the man is all about business and not cutting corners.
Those so appalled by his receiving a scholarship should instead focus their energy on more pressing needs in America's flawed education system, such as limited access to books for children in our inner cities, sky rocketing student loan rates that hinder financial prosperity after graduation, and an overall perversion of college sports recruiting that involves administrators using PUBLIC funds to pay for alluring top notch athletes with suspect GPA's or
covering up sex scandals
.
Those issues cost more kids access to college than ONE millionaire's son getting a football scholarship.
Personally, if I were the Combs family, I would give the scholarship back. But, I don't think that should be expected.
Justin Combs worked his butt off and made the most of his opportunities. We shouldn't look down on him for being rewarded for doing so, instead we should commend his efforts and let him be proud of his "VICTORY."