We've all experienced that moment. That moment we thought could happen, but are still in awe of when it actually does.
For example, in grade school, high school, or even college, there was always that girl who was cool, down to earth, and had a great personality. She was cute in her own way but, you never really looked at her in THAT way. Then one day she transforms. She starts out as
just some girl who you sit next to
and then the next moment she is a Rumble-Young-Man-Rumble
KNOCKOUT
.
There were signs the whole time, but once the transformation is complete, you can't help but realize you should have realized it sooner.
The NBA's new hottie is the Oklahoma City Thunder. In less than two short weeks, they went from braces and saddle shoes to makeup and heels.

They matured and in impressive fashion.
Oklahoma City is one of the youngest teams in the league, with an average age of about 25.5 years old. There are only four teams with more youth and none of them made the playoffs, let alone the NBA Finals.
But, for what these young'ins lack in birthdays, they make up for in teachability.
Throughout the first two games of the Western Conference Finals, OKC's opponent, the San Antonio Spurs put on a clinic. They moved the ball as well as any team can. They played balanced and were poised. In other words, they won as winners do. That is to be expected of a franchise with four titles in the past 13-years, maybe the greatest power forward of all time, a hall-of-fame-coach, and an MVP candidate point guard.
During the first two games in San Antonio, the Spurs showed the Thunder exactly what a champion looks like.
A lot of young teams would have accepted this butt whooping as a learning experience, folded, and said they would use those lessons learned and apply them next year.
But, in sports and life, nothing is guaranteed NEXT year. Carpe Diem. The Thunder threw their books down, stood on their desks, yelled
"Oh Captain, My Captain"
and seized the opportunity.
They changed from a team full of one-on-one players in the opening two games, to a team that made passing contagious. Everyone bought into their roles.
Russell Westbrook played under control. James Harden was a spark plug off the bench. Serge Ibaka and Kendrick Perkins played fast and aggressive. Thabo Sefolosha defended and hustled like a mad man. Derek Fisher hit big shots as he has done throughout his career. And Kevin Durant...well, Kevin Durant went from a dangerous threat to a full on,
cold-blooded, sleep with both eyes wide open, killer assassin
.
Head coach Scott Brooks deserves a lot of credit, too. He was able to get his team of 'kids' to react as men and buy into the teaching moment their opponents provided in the first two games. As opposed to being stubborn and insisting on playing the "Thunder" way, Oklahoma City used the model of success the Spurs have laid out for over a decade and made it their own.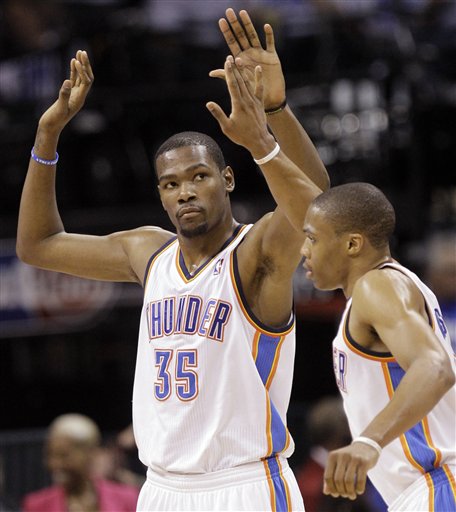 OKC became the better passing team. They set the tempo and they made the hustle plays. The Thunder shed who they were, forgot about egos and previous misfortunes, and grew into something better.
Growth sometimes comes natural and sometimes it comes through paying attention, looking in the mirror and realizing you want to see something different.

Oklahoma City always had the talent, but they didn't know what to do with it, until now. They went from a cute, fun team with potential to the team no one can take their eyes off of.
And no one wants to take their eyes off a winner.