The two most transcendent athletes of the last decade are at turning points in their careers.
For all the greatness they've produced, LeBron James and Tiger Woods find themselves in a place they have never been before. It's a place that consists of more doubt than adoration and is proving to be the ultimate test for two men, who if they pass, could end up being the greatest their sports have seen. If they fall short, they could be considered two of the biggest letdowns.
From the minute they stepped on the scene, Tiger as an overachieving, focused amateur and LeBron on the cover of Sports Illustrated as "The Chosen One," they have been heralded as the next great thing in their respective sports.
Then they turned pro and both exceeded expectations. Tiger owned Majors and 'Bron became a player the NBA had never scene before, a 6-8, 275 pound guard. He is a taller Osi Umenyiora with Magic Johnson's skill set.
Ahh the good ole days.
Both men have been to the height of their profession. The endorsement deals are endless. Magazine covers, shoe deals, signature video games...they had it all. Even when they messed up, fans still believed their greatness would be enough to bounce back quickly.
Tiger missed the cut at Winged Foot in the 2006 U.S Open and Bron was swept in the Finals against the Spurs, but they were so good and dominant the consensus was that it was just be a matter of time before they were again at the top of their games.
They did, only to make poor life choices that made the court of public opinion turn on them quicker than
Cher's daughter did into a son.
Bron and Tiger are no longer getting the love they've grown accustomed to throughout their careers.
We are learning these supermen do have kryptonite and it sits between their ears.
Tiger's off the course rounds still are causing more problems than any ACL injury and LeBron trying to win back the adoration of NBA fans have hindered their quest to be great.
Sports fans use Michael Jordan as the model of greatest. MJ was ruthless, hardworking, and focused only on winning. He is seen as the standard of a champion.
Tiger and LeBron have both tried to live up and eclipse his Airness' level of dominance. Tiger was close and Bron may have been put there prematurely, but regardless, its a standard his career will ultimately be compared to.
The thing that separates Jordan from these two is his mental game. Jordan blocked out the world when he was on the court. Whether it was his gambling debts, media criticisms, or memorizing lines of
epic movies
, MJ didn't bring that stuff with him on the court.
Every time Tiger walks a fairway, there are whispers in the gallery about his sexual escapades.
Every time LeBron steps on the 90-feet of hardwood, he is the most despised man in the building because of "The Decision."
They are no longer loved. In fact, for the most part,
they are hated
. And that hate is turning to self-doubt.
If Tiger wants to pass Jack's Majors record and LeBron wants to start a long term relationship with the Larry O'Brien trophy, both need to start worrying less about what people think and more on doing their jobs.
Tiger's decision to drop out of next week's U.S Open is a good one. He is physically damaged, but mentally he hasn't been right since the world found out he had a little Hugh Hefner in him. He is naturally a private, closed-off person and has had to put on a warm, softer front in order to win back the support of his fans, the golf community, and the corporate sponsors who fund
Jupiter Island
.
This is not the same man who was cut throat in the Masters and intimidated the entire field in practice rounds. Until Tiger comes to peace with his past mistakes and truly begins looking forward at Jack and not back at those mocking him, he will continue to struggle.
If he cares more about winning than being liked, Tiger will come back aggressive and hungry and control the dented white ball like he used to, better than anything else is his life.
LeBron has always been a happy-smiling figure. His on court demeanor was the antithesis of Tiger's. He would dance and wink and it was all fun and games. Fans were receptive to this style, because it made coming to the court fun.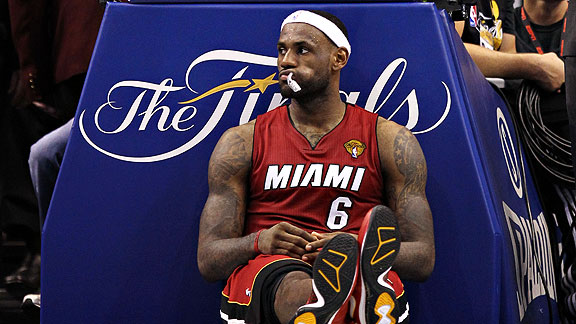 For the past twelve months, he's had to be defensive and take a more serious approach because he decided a pursuit of a title was easier with help than by having to carry the burden on his own and the country responded with scorn.
He underestimated the amount of pressure that would come as a result.
In the Finals he's been missing more than
Mr. Chow's length
. LeBron is starting to cringe as the pressure heightens. He is proving to be a player he's fought so hard not the be, one that is above-average, but not great when it matters most.
If LeBron doesn't step up, come to play, and help his team win a championship over the next three games, it may prove that we are "Witness"ing one of the mentally softest players of our time, one that will never be truly great.