I'll admit, I thought it was over. At 10:39 pm, I tweeted "The last time someone ran through a bunch of Mavericks this easy was 1978...Debbie Does Dallas."
That was early in the third quarter. And it got worse. Miami was on the verge of a blowout and then, Debbie got lazy and Dallas got focused and made arguably the greatest comeback in NBA Finals history.
The Mavericks 95-93 win over Miami, Thursday, at American Airlines Arena was beyond miraculous. Dallas put together a team effort and never quit. Dirk hit the big shots, but Shawn Marion was consistent, Jason Terry was clutch, Tyson Chandler was ferocious, and Brian Cardinal...well he picked up a foul. The Mavs gave it their all for 48 minutes.
Miami gave it their all for about 41 minutes and some change.
It was a perfect microcosm for why they are and will continue to be "America's Most Hated Team."
Anyone who has watched these playoffs knows the Heat are above and beyond the most talented team. Coming into Thursday's game, they hadn't lost at home and were 13-3 in the postseason. That is the definition of dominant. No, they haven't really blown anyone out, but they have played as a team down the stretch when needed most.
Thursday, they lost focus of the team concept and reverted back to the
June 2010 overhyped, self absorbed, celebrate before the job is done
, Miami team that earned the scorn of everyone outside of South Florida.
In game two, the Heat were dancing and posing when they went up by 15 with seven minutes left as if Larry O'Brien had just told them he already started engraving their names into the trophy named after him.
Their actions were immature, selfish and entitled. Those are three adjectives that do not describe a CHAMPION.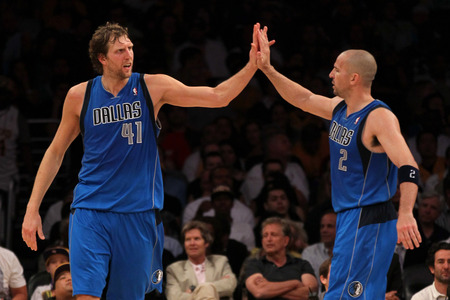 While 'Bron, Wade, and
Rupal, excuse me, Chris Bosh
, were working on their 'You Got Served' celebration routine, the Mavericks did what veterans do and fought.
They did it with efficiency and defense.
Dallas allowed Miami to buy into the idea that they were that good. The Mavericks let the Heat run one-on-one offensive sets and had no problem letting them launch three's, because they knew, as a team, they have what it takes to beat a bunch of individuals.
And they did so to the tune of a 22-5 run that was capped off by a left handed, correction, injured left-handed, lay-up by Dirk Nowitzki.
The Mavericks are certainly not more talented than the Heat, but they proved Thursday they are are more mature, focused, and better at handling adversity.
The Heat are a bunch of characters. Cocky individuals. The Mavericks are a team and soon should be Champions.