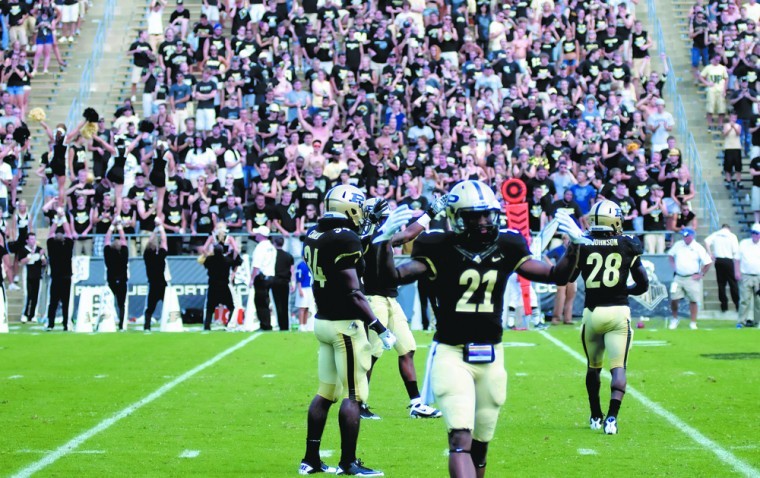 Minnesota's first five possessions Saturday at Purdue read something like a nightmare for the Gophers.
Three-and-out. Three-and-out. Fumble. Interception returned for a touchdown. Fumble.
Purdue jumped out to a 24-0 lead before the Gophers even sniffed the other side of midfield.
Once Minnesota finally did get into Boilermakers' territory, it was forced to punt and Purdue took the ensuing possession 70-yards on eleven plays capping it off with a 12-yard pass from Robert Marve to O.J. Ross.
Just like that, it was 31-0. The Boilermakers cruised to a 45-17 win in their Big Ten opener.
"I thought our team came out and played with great enthusiasm and energy," said head coach Danny Hope. "All 96 guys were really into it…I thought that really made a difference in our fast start."
Purdue improves to 3-2 overall. They bounced back after a disappointing 38-10 loss to in-state rival Notre Dame last week.
The Irish put up 551 yards, Saturday the Boilermakers held Minnesota to just 213.
Ryan Russell and Ricardo Allen sparked the defensive charge.
Russell forced a pair of fumbles and Allen returned an interception 37-yards for a touchdown. It's the third pick six of the sophomore's career. He joins Mike Rose and Rod Woodson as the only Boilermakers to have that many.
"I feel like my coaches call the right plays for me and put me in the best spot and I have a great D-line and good linebacking corps, so they make things easy for me," said Allen. "I think people pick on me because I'm 5'9 but it's biting them in the butt a little."
Offensively, Purdue used a multi-quarterback system, as it has all year. Junior Caleb TerBush started and went 14-of-21 for 140-yards. He also hit Akeem Shavers on a ten-yard scoring toss.
Robert Marve stepped in midway through the second quarter and finished the day four-of-six for 15-yards. He threw a 12-yard touchdown pass to O.J Ross. Spencer Dawson also saw action under center.
"We came out and we had to start fast, which we did, so it worked out," said TerBush. "We just put a bunch of things together and it worked out for us, so it's really good to build that confidence up to head to Penn State."
The Boilermakers used a committee of running backs, as well. Shavers led the way with ten carries for 52-yards. His first score came on a fourth-and-goal run from the one yard line in the opening quarter.
Akeem Hunt went for 71-yards on nine carries. Ralph Bolden had the most carries with 12 for 41 yards and a touchdown. Raheem Mostert ran for 31 yards and a score and Reggie Pegram picked up 20 yards on two carries.
As a team, the Boilermakers ran for 217 yards. It's the third time in five games Purdue eclipsed 200 yards on the ground.
"What I like about our football team right now is we don't have anyone pouting about how many carries they get or how many catches they get or how many passes they get to throw," said Hope. "We have a bunch of guys on our football team who really want to win."
One of Minnesota's few bright spots was a 92-yard kickoff return by Marcus Jones in the third quarter. It was the Gophers first touchdown of the Big Ten season. MarQueis Gray added a one yard rushing score in the fourth.
Jerry Kill's club falls to 1-5 overall and 0-2 in the conference. They have a bye week before playing Nebraska at home.
Purdue goes to Penn State next weekend. The Boilermakers are looking to start 2-0 in the Big Ten for the second consecutive season.