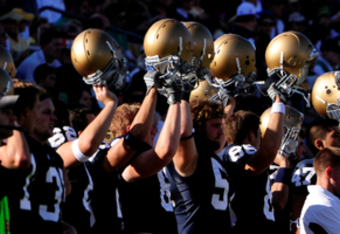 Notre Dame has shaken off its 0-2 start.
The Irish won their third in a row, Saturday, beating Purdue 38-10 on the road.
"We didn't play well and things didn't go our way and we had bad luck, too. When all those things happen it ends up being a bad showing for our football team." said Purdue head coach Danny Hope. "We played a very talented football team."
The home crowd was amped for the seventh night game in Ross-Ade Stadium history, but the excitement deflated quickly when Notre Dame's Gary Gray picked off Caleb TerBush on the Boilermakers first play from scrimmage.
Two plays later, Michael Floyd grabbed a 35-yard pass from Tommy Rees for a touchdown.
Floyd continued his All-American campaign with 12-catches for 137-yards.
"We just went out there and didn't execute and missed some tackles we should have made," said Purdue safety Albert Evans. "That happens sometimes when you are going against good athletes."
The tone of the game was set in the first quarter and it was a nightmare for Purdue. The Boilers ended the first 15-minutes of play with more yards in penalties (48) than they had in total offense (39).
For the game, Purdue racked up 13 penalties for 118 yards and recorded only 276 yards offensively.
"Penalties hurt us," said defensive end Gerald Gooden. "Stopping their running game and passing game is pretty tough and we kind of struggled."
Even after falling behind early, Purdue had chances to get back into the game. Defensive Tackle Kawann Short blocked the fourth field goal of his career. He got a hand on a 28-yard try from David Ruffer.
After Purdue's offense failed to do something with the ensuing possession, the Irish again marched down the field and appeared to have to settle for another field goal try, but Evans was penalized for an unsportsmanlike conduct penalty for giving a high five to a Notre Dame fan after defending a third down pass.
The Irish used the new set of downs to take 14-0 lead when Jonas Gray ran the ball in from two yards out.
"That was a downer, but I guess you just have to learn from it," said Evans.
Notre Dame extended its lead to 21-0 after Cierre Wood broke free for a 55-yard touchdown in the second quarter.
Purdue finally got on the board more than halfway through the second quarter with Carson Wiggs capping off a 14-play, 70-yard drive with a 27-yard field goal.
Rees (25-41, 264 yards) threw his second touchdown of the game on the Irish's first possession of the second half. He connected with Tyler Eifert on a six yard score to give Notre Dame a 28-3 lead. He found T.J jones from eleven yards out later in the quarter for his third touchdown toss.
Notre Dame (3-2) will go for four in a row next week in South Bend against Air Force.
Purdue (2-2) begins conference play, Saturday, at home against Minnesota.
"We are going to rebound," said Hope. "We have good guys, good players, who want to win."