As I type this in a
sweater
and craving for a heater, it's hard to remember that, last weekend, temperatures flirted with triple digits in West Lafayette.
Those who came to Ross-Ade Stadium for the Purdue football season opener slaved through almost unbearable heat. For fans,
the Old Spice man couldn't get on his horse and ride in fast enough
to relieve them of the buckets of sweat that poured out while watching the Boilermakers sneak out a 27-24 win over Middle Tennessee. It was reported as being as hot as120-degrees on the field, last Saturday.
The players' primary focus was defeating the Blue Raiders, but it was even hard for the Boilermakers to avoid the heat's distraction.
"If it got any hotter, we would have caught on fire," said head coach Danny Hope. "I thought we managed the heat pretty good. We didn't really have any casualties from it."
You know what's crazy? As hot as it was in Central Indiana last week, it could be just as sizzling, if not hotter, when the Boilermakers take the field against Rice in Houston, Saturday.
"I think the best preparation was (against Middle Tennessee), playing in that heat. That was incredible." said receiver Justin Siller. "We know it's going to be just like that in Houston. I think (Saturday) was a very good stepping stone for us to go down to Houston to play in that heat."
High temperatures are expected in the mid-90s when the Boilers and Owls square off at Rice Stadium.
But, no Purdue player may feel the heat Saturday more than kicker Carson Wiggs. Sure, he'll battle through the scortching temperatures like the rest of his teammates, but pressure may make it a little hotter under the preseason All-American's shoulder pads.
Wiggs grew up in Grand Prairie, Texas which is about five hours from Rice. He is anticipating this to be more of a home game for him than even playing in West Lafayette.
"My mom and dad got a bundle of tickets for 85 family and friends, including a bunch of teachers from kindergarten through high school, the entire family, cousins, coming out of the woodwork, coming to see the game," he said. "I'm excited to go down there."
Wiggs is off to a solid start to what many believe could be an award winning season. He drilled a pair of field goals against Middle Tennessee, including a 50-yarder. He also went three-for-three on extra points and dropped two punts inside the Blue Raiders' 20-yard line.
He is pretty comfortable kicking within the confines of Ross-Ade, but is anticipating some added stress when he puts his leg to work in his home state.
"I think it may be a little more nerve racking, because I know those guys. I can come out to Ross-Ade and not really personally know more than 20 or 30 people in the stands." Wiggs said. "Now, I know 85 people who are just going to be staring at me the whole time whether I'm on the sideline or on the field."
Wiggs said he doesn't have any advice for his teammates in handling the heat, only to do what the coaches say and stay hydrated.
Defensive End Ryan Russell credits the team's off-season workout regiment with getting the Boilermakers prepared to handle the blistering conditions.
"We are in good shape. We've been running all summer with the new strength and conditioning people," he said. "We are probably in the best shape we have ever been in. I know I am personally."
And that may be one of the reasons the Boilermakers avoided a meltdown when the heat was turned up in their season opener.
Trailing by four with about five minutes left, Purdue put together an 85-yard scoring drive, capped off with Caleb TerBush connecting with Antavian Edison for a 35-yard touchdown.
The Boilers put all hope the Blue Raiders had away, when cornerback Ricardo Allen blocked what would have been a game tying field goal as time expired.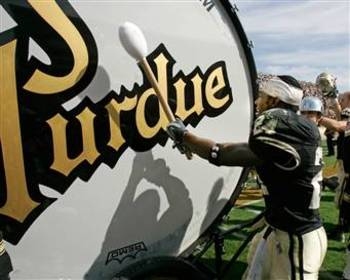 The win ended Purdue's six game losing streak and may have been exactly what the Boilermakers needed to fire up some momentum, no matter what the conditions.
"We really want it this year," said Russell. "We've all worked very hard. We've seen each other sweat, cry, and bleed for it. There's a better sense of urgency and intensity, now."
Purdue will sweat plenty Saturday as they try to stay hot, both physically and record-wise, against Rice. Kickoff is at 3:30 p.m.