Nine weeks ago I started what can only be described as a life changing makeover.
My brother sent me the Insanity Workout DVD. Yes, the same one from those corny infomercials you are watching at 2:30 a.m. after a night at the bar or on Saturday afternoons before the start of golf or baseball.
I was skeptical at first, but figured I'd give it a shot. I needed to try something different. I went to the gym a few times a week, but that was getting stale and I was eating like
Morgan Spurlock
. It was time for a change of pace.
On July 1st I started the 63-day Insanity challenge and within five minutes was humbled by how difficult it was. I poured sweat,
Chauncey Billups style
. I was dripping from head to toe. It was disgusting and remarkable at the same time. Every crevice of my body ached. I don't think death could feel this bad.
I do my Insanity workouts in the morning and after that first day I remember limping around at work. I could barely sit comfortably because my muscles were burning so bad even hours afterward.
But, I was determined to finish the two month challenge and pushed on.
I now have a week left and have not missed a day along the way. At the risk of sounding like those people on the infomercials, Insanity really has made a difference. Physically I am in the best shape of my life and I have more energy than ever. I feel more productive at work and socially. It's made me a better person.
I detail my Insanity experience to say this...maybe college football needs to get a little insane.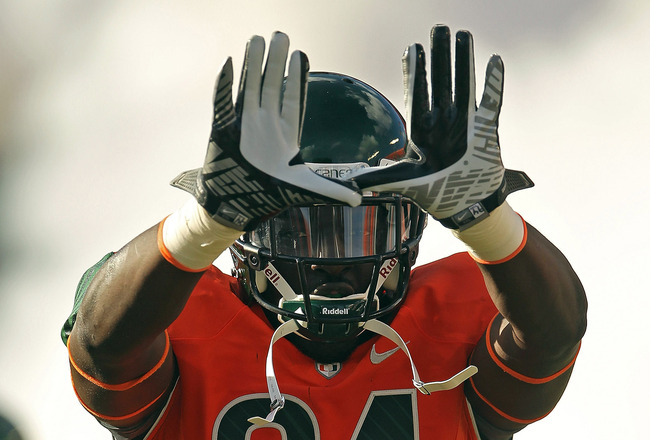 The NCAA should use the recent
scandal at Miami
as its challenge, just as Insanity was mine. It could be a game changer. An
extreme makeover
is necessary.
There has been talk that the 'U' could face the Death Penalty. Opponents argue that's too harsh of a punishment and that it hurts not only Miami, but the ACC Conference, and college football as a whole.
I say, so what?
Yes, Miami may lose money in the short term and yes, the Death Penalty has ripple effects throughout the university beyond just the football program, but that type of punishment also could serve as a way to rebuild a cleaner system.
If the NCAA takes away football from one of the historically great programs, it sends a message that it is committed to change. It shows the Association is no longer going to tolerate rule breaking and corner cutting. Dropping the hammer on Miami may force other programs across the country to take a closer look at the activities around their programs and act fast to make sure everything is in order.
The status quo isn't working and implementing penalties similar to those given in the past won't result in the necessary changes.
The NCAA needs to think about what it looks like now, realize it's not what it should be, pop in its own Insanity DVD, and transform itself into something better and more positive.
It may hurt in the short term, but over the long run, the changes will turn college football into something better.
It's time to get INSANE!