Purdue's Lewis Jackson is the smallest man on the floor 99-percent of the time. The 5'7 junior isn't blessed with the gift of height, but his team is blessed with his gifts.
Jackson has provided an added spark to a team with two potential All-Americans - JaJuan Johnson and E'Twaun Moore. He is asked to run the offense, defend the other team's best perimeter player, and at the same time be a floor leader.
He was at his finest in Purdue's biggest game of the season.
Purdue's point guard was everywhere in Wednesday's 70-62 win over Wisconsin.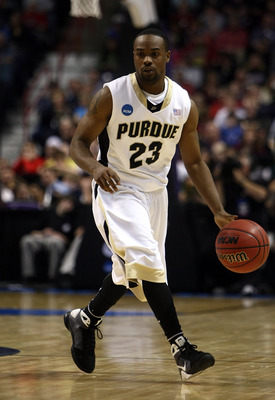 "I had to be special," said Jackson. "It just all came together tonight."
Jackson helped the Boilermakers overcome a slow start, but finally got going offensively when Jackson led two first half fast breaks that resulted in open three's for D.J Byrd and Moore.
"Once we got those rebounds and really pushed it out…it just really gave us that momentum, " he said.
Jackson finished with five-assists and no turnovers.
He also made the normally stout Wisconsin defense look porous by creating his own shots in the paint and around the arc. He was efficient going six-of-nine from the floor for 18-points.
"When he let's the game come to him, he is one of the best guards in the country," said Purdue Head Coach Matt Painter.
Jackson also hit three clutch free throws down the stretch to help Purdue seal its 21st win.
"That's just hard work in the summer, " Jackson said. "Really going up there and knowing these guys have the confidence, and Coach Painter and the rest of the coaching staff, has confidence in me, really just allows me to get up there and be calm."
Jackson's most impressive work may have come on the defensive end of the floor.
Saturday, then top-ranked Ohio State dropped their first game of the season after Jordan Taylor carved them up for 27-points. The Buckeyes had no answer for him.
Lewis Jackson made sure Purdue did.
Jackson was assigned to Taylor. He harassed him from baseline to baseline and never let Wisconsin's second leading scorer get on track.
Taylor was held to 15 points, which is three below his season average.
"Jordan Taylor had a good game, but he didn't have that big time game when he scores 30 and just dominates, "said Painter. "It's very demanding how we defend and (Jackson) has to go up and guard the basketball and it takes a lot out of you."
Jackson will have another tough assignment guarding Ohio State's backcourt when Purdue hosts the Buckeyes, Sunday.
Just one more challenge for a player who continues to take his game to another level.