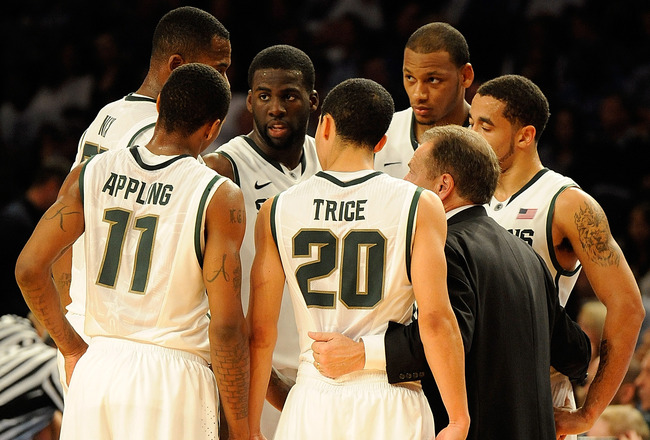 Michigan State has been one of the most successful teams in the NCAA Tournament over the past decade-and-a-half. Tom Izzo has guided the Spartans to six Final Fours since 1999. But, when playing against familiar conference foes in the Big Ten Tournament, the story has been different.
Michigan State hadn't won a semifinal game in the event since 2000, but that drought ended with Saturday's 65-52 victory over Wisconsin.
"A lot of people always say coach Izzo takes off the Big Ten tournament to get ready for the NCAA Tournament. That's such a myth," said Draymond Green.
"One thing we have talked about with this group is really focusing in on and trying to get wins, because it's something that hasn't been done here (in the Big Ten Tournament) in a long time. And when you talk about leaving a footprint in the sand, it's just another way to get it done."
After a slow start that put Wisconsin up 20-9, Michigan State hit the 'on' button both offensively and defensively. The Spartans held Wisconsin without a field goal for the final 10:21 of the first half and for nearly two minutes at the start of the second half, en route to a 28-5 run. And, Michigan State made the surge with its All-American, Draymond Green, scoring just two points and committing four turnovers.
"There have been times all year when guys haven't been playing as well, or guys going down with injuries, or guys not playing as much and other guys have stepped up and increased their roles," said Austin Thorton.
"That's what a team is supposed to do and a great job (today) by our guys stepping up and making plays."
Thorton sparked the Spartans' streak, hitting three consecutive three-pointers. He finished the game with 12-points and a career-high four baskets from downtown.
"This team wouldn't be where it is without Austin," said Draymond Green. "Today everybody saw what he was capable of doing. I started off the game struggling very bad and he hit a few big three's and got us back in the game and from then on we were all able to pick it up."
During its run in the first half and early into the second, Michigan State hit 15-of-19 shots after starting 1-9 from the field.
The Badgers used a 13-0 run of their own claw back within six with just over 12-minutes to play, but after struggling for much of the game, Green came alive. The Big Ten Player of the Year accounted for 13 of the Spartans final 19-points, including ten of his own and an assist on a Keith Appling three-pointer.
At the same time Green warmed up, Wisconsin went cold. The Badgers failed to make a field goal for nine minutes after trimming the deficit to a half dozen and were never able to recover.
Wisconsin shot 34-percent from the field for the game. Jordan Taylor scored 19-points and Ryan Evans had 18, but no other Badger had more than six. Rob Wilson, who scored 30-points in Wisconsin's quarterfinal win over Indiana, was held to just one basket.
"It was a complete team effort," said Green of Michigan State's defensive performance. "You have to give this game to our guards because they did a great job offensively carry this team and also did a great job defensively of stopping those guards from shooting those threes."
Green finished with his conference best 19th double-double, 14-points and 16-rebounds, as well as five assists.
Derrick Nix kept the Spartans in the game early scoring the team's first seven points. He and Brandon Wood both ended with nine.
Keith Appling continued his solid play in Indianapolis. After a 12-point, six assists performance in the quarterfinals against Iowa, the sophomore point guard added 13-points, five assists, and only one turnover against the Badgers.
"It's tournament time. I have to take care of the ball and make plays for my team and that's what I did all night long," he said. "When the opportunity was given, I was able to get a couple baskets."
The Spartans are in the Big Ten Tournament title game for the first time since 2000 when they captured their second consecutive crown and then went on to win the National Championship.
Last weekend, Michigan State lost to Ohio State on senior day in East Lansing and was forced to share the Big Ten regular season title with the Buckeyes and Michigan Wolverines.
Sunday is a chance for redemption. The Spartans have no interest in sharing anymore and expect to leave Indianapolis with a title they can call their own.
"I was ecstatic about the win. It's been eleven years, I think, since we have been in the championship game and I'm going to try to enjoy this," said Izzo. "I can't tell you how excited I am to be in the championship game, no matter who we play. We could play the Pacers, I don't care."